Application Form for Ratification of Membership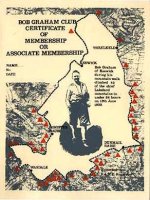 For those who achieve a sub-24 hour Round, membership of the Club awaits.
Applications for Ratification of Membership should only be made on the Club's form designed for this purpose and submitted as an email attachment to the Membership Secretary, Bob Wightman, whose details are in the Contacts section and also included on the form.
The ratification form is available for download on this page which you should read before starting to fill out the form. It will help you avoid common mistakes. It will also help to have it open when filling out the form. If anything is unclear just drop the Membership Secretary an email.
Do not use the ratification form to register an attempt - for that go to the registration page and fill out the form there.
The information which you provide in this form and any other information obtained or provided during the course of your application for membership will be used solely for the purpose of processing your application and if elected to membership, dealing with you as a member of The Bob Graham 24 Hour Club including creation of a membership database with members' contact details. The data will not be shared with any third party for marketing or commercial purposes without firstly obtaining your explicit consent. If once a member you choose to use the fact of your membership of the Club as qualification for any other event, you consent to the Club sharing the fact of your membership with the organisers of such event.